Saco October 9, 1812 on this page is a true copy of the dividing line between the town of Saco and Scarborough.
attest Daniel Stillwell ch committee.
To the clerk of the town of Scarborough—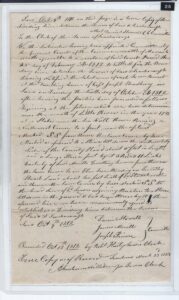 We the submember having been appointed committee by the General Court of the Commonwealth of Massachusetts, agreeable to a resolve of said court passed this 25 day of February A 1812 settle and fix the boundary line between the towns of Scarborough and Saco having notified the Selectmen of each town to meet at the dwellinghouse of Capt. Joseph Bradbury in Saco and Tuesday the sixth day of October A 1812 after hearing the parties have proceeded as follows. Beginning at the place which we have determined was the mouth of Little River year of 1743 at a state near the seawall thence running a Northwest Corner to a part near the Upland marked S.S. from thence the same corner by trees marked as aforesaid to a stone set down the Northwesterly Side of the County Road about 5 feet in length and a large stone put buy it 3 rods and 11 links Easterly of Levi Merrills dwelling house from thence the same corner to an elm tree standing on Timothy Stuarts's land about 10 feet south of T. Stuarts well and thence the same course by trees marked S.S. to the head line of [?] town adjoining Buxton to a stone set down in the ground and two large stones by it the aforesaid line we have unanimously agreed to established as a dividing line between the towns of Saco and Scarborough
Saco Oct 9th 1812
Daniel Stowell }
James Morrill } – Committee
Joseph Prime }
Recorded Oct 12, 1812 by Robert Hasty Town Clerk true copy as of record Scarborough March 23, 1825 Abraham Norton Jr., Town Clerk
---
(Transcription by Betty McEwan, Scarborough Historical Society)
From: Encapsulated Collection #25.  Copy of the dividing line for the towns of Saco and Scarborough.