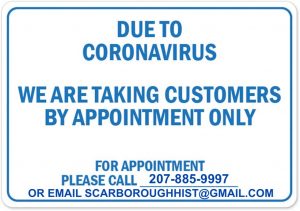 The Scarborough Historical Society Museum is open to a limited number of visitors by appointment only. Visitors may schedule appointments for Tuesdays and the second Saturday of the month from 9:00 AM to Noon. Appointments are 50 minutes.
9:10 to 10:00
10:05 to 10:55
11::00 to 11:50
Please indicate if your visit is for to see the Museum displays or for Research time.
Volunteers & Visitors must wear masks while visiting regardless of vaccination status.
The Society Board of Directors will continue to monitor government and public health authorities' updates for guidance on public safety measures and will adapt measures accordingly.
Please email scarboroughhist@gmail.com to schedule an appointment. Alternately, you may schedule a visit by phone (207-885-9997) at least 1 week in advance.
---
Please see Covid-ActNow status for Cumberland County current Status. See Maine.Gov's General Guidance for information on masks and COVID protocols.
---