Transcription of a 16 April 1835 warrant to inform individuals they had been elected to office. The warrant was completed 28 April 1835.
---
To John Donnell Constable of the Town of Scarborough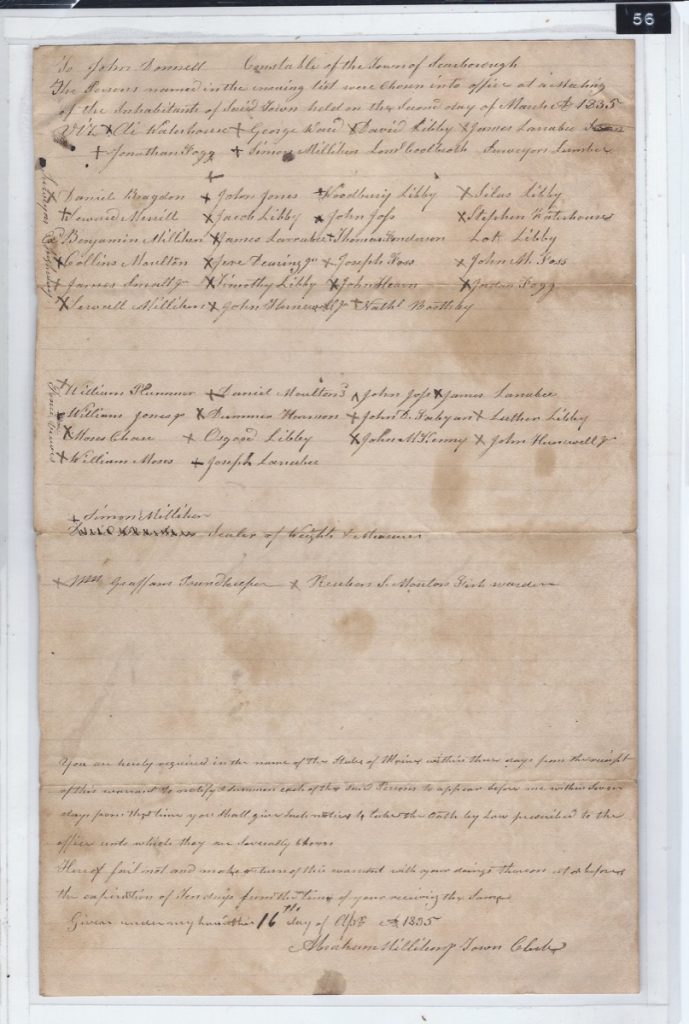 The Persons names in the ensuing list were chosen into office at a meeting of the inhabitants of said town held on the second day of March in 1835 with [?] Waterhouse, George Ward, David Libby, James Larrabee, Jonathan Fogg, Simon Milliken, Sam Coolbroth, Surveyors Lumber.
Daniel Bragdon John Jones Woodbury Libby Silas Libby
Seward Merrill Jacob Libby
John Jofs Stephen Waterhouse
Benjamin Milliken James Larrabee Thomas Fenderson Lok Libby
Collins Moulton Gene Deering Jr. Joseph Foss John M. Foss
James Small Jr Timothy Libby John Hearn Jonothan Fogg
[?] Milliken John Hunnewell Jr. Nathl Boothby
William Plummer Daniel Moulton John Jofo James Larrabee
William Jones Jr [?] Harmon John D. Fabyant Luthern Libby
Moses Chase Osgood Libby Joshua M. Kenny John Hunnewell Jr
William Moses Joseph Larrabee
Simon Milliken Sealer of Weights & measures
Moses Graffam Town Keeper Reuben S. Moulton Fish warden
You are hereby organized in the name of the State of Maine within this day from this night of this warrant to notify and summon each of the said Persons to appear before me within seven days from that time you shall give such notice to take the oath by law prescribed to the office unto which they are soundly chosen.
There of fail not and make return of this warrant with your doings thereon at or before the expiration of ten days from the time of your receiving the same.
Given under my hand this 16th day of Apr 1835
Abraham Millihemp Town Clerk
[Back of Page]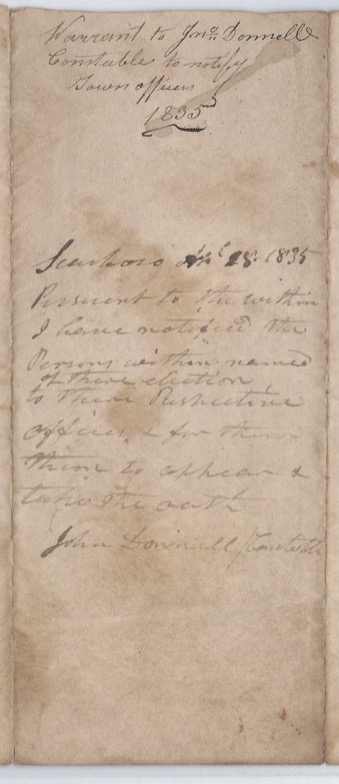 Warrant to Jon O/II Donnell
Constable to notify
Town officers
1835
Scarboro Apr 28 1835
Pursuant to the within
I have notified the
Persons within named
Of there election
to there respective
offices & for there
time to appear &
take the oath
John Donnell/Constable
---
[Transcription by Carole Plowman, Scarborough Historical Society, 3 February 2021]
[Ref: "Encapsulated Collection 56 – Warrant to Jon Dommell Constable – 1835"]