Scarborough Historical Society Meeting, 2:00 p.m., April 7th, 2019 at the Scarborough Public Library.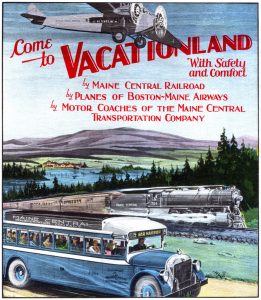 Following a short Historical Society meeting on April 7th, Linda Snow McLoon will present a program on tourism in Maine.
For as long as we can remember, Maine license plates have proclaimed the state to be the nation's vacationland. But, when did tourists start flocking in numbers to Maine, and what brought them here?
Linda Snow McLoon's program, "Maine's Early Tourism," will include over 120 historical images that help tell the story of the first "rusticators" who strived to spend newly found leisure time in the Pine Tree State.